From our Partners
Cannabitch: Would You Buy a $30K Bong?
By Jackie Bryant
Aug 10, 2020
Share:
Cannabitch is a weekly newsletter published and written by journalist Jackie Bryant. Please click through to read more or become a paying subscriber.
Today I write to you all from the depths of pure devastation. Just a few days ago, I watched as my beloved spoon (bowl, pipe, etc.—insert your preferred handheld smoking apparatus nomenclature here) leaped out of my handbag and crashed onto the tile below it, shattering into a few big pieces.
My stomach instantly dropped and my chest muscles clenched up. Then, dramatically, I started crying. I think any stoner who, at any point, obtained a beloved glass piece only to break it has felt similar heartbreak. It was my piece! My little sidekick. It came everywhere with me and served me well for about a year. An ex of mine gave it to me as a gift and, though he is quite gone, I still liked to have this reminder of him. I remembered it was a full moon in Aquarius—whatever that really means—and a quick Instagram scroll told me that we, as humans, could expect this particular moon to release things that no are no longer serving us. I took it as a sign, tried to accept that this spoon breaking was a necessary tie to cut, and instantly posted a plea to my Instagram stories.
"Can anyone recommend a good glass artist that can make me a palm-sized spoon?" I posted. I got a couple of suggestions, but mainly messages from at least ten people asking if I could pass along whatever information I found. "I've been wondering the same," one woman said. I thought it was interesting that so many dyed-in-the-wool stoners, myself included, didn't personally have a glass connect.
Funnily enough, two days after that it's time to jump on a long-scheduled call with Etai Rahmil, a well-respected glass artist from Portland who is currently at the top of his game. I don't even bother to ask him if he could help—his pieces are larger-scale, intricate collector pieces, and just this week he launched his new glass-only pour-over coffee brewer. Derailing from that to make a spoon for a random writer is, I think, a bit below his pay grade. I do, however, spill my story as soon as we get on the phone.
"Ohhhhh noooooooooo!" Rahmil yells back into the phone with an anguished groan, thereby thoroughly validating my despair. "I know…I know how you feel! And, you know, it's not just on your shelf, right? You use it all the time! You handle it," he said. YES, I think.
"It's kind of crazy," he says, pausing briefly. "When you think about art being impactful like that. You know? How impactful is a painting on the wall compared to something that you literally change your experience of life with? This is the pure form of art that came out of cannabis culture. And it's not just sitting on a wall—you're able to experience it in a really personal way for a long time," he says. Unless, of course, you break it.
He gets it. More than that, though, Rahmil lives it. He's been blowing glass since 2009, the year he discovered the craft. He was a student studying sociology at the University of Oregon. He caught the bug, dropped out, and hasn't looked back since. Notably, he trained with glass legends like Bob Snodgrass while also working at a glass shop that was once closed down and raided as a part of Operation Pipe Dream (yes, that is a real-life thing that happened with government money and resources).
I ask him why it was so hard for me to get a solid personal recommendation for a glass artist despite being decently connected (I mean, right?) to the cannabis industry. "Well, the glass industry—we run parallel to the cannabis industry," Rahmil says. "We are not the cannabis industry, but obviously we cross over all the time. And what's happened in the last six to ten years, when Instagram really started getting popular and people were really understanding that can connect to artists on the internet, is that a lot of artists that had signature styles or that were developing signature styles, kind of like tattoo artists, started to get recognition for their work. It wasn't just the same old idea of what a glass pipe always has and should look like."
Other artists agree. Joe Mankey, a Philadelphia glass artist known as EF Norris, also thinks social media was the turning point for their industry. "Before Instagram, the only way I sold glass was going to festivals or driving all over the place going from store to store hoping a store owner would buy my work [pictured below]," he says.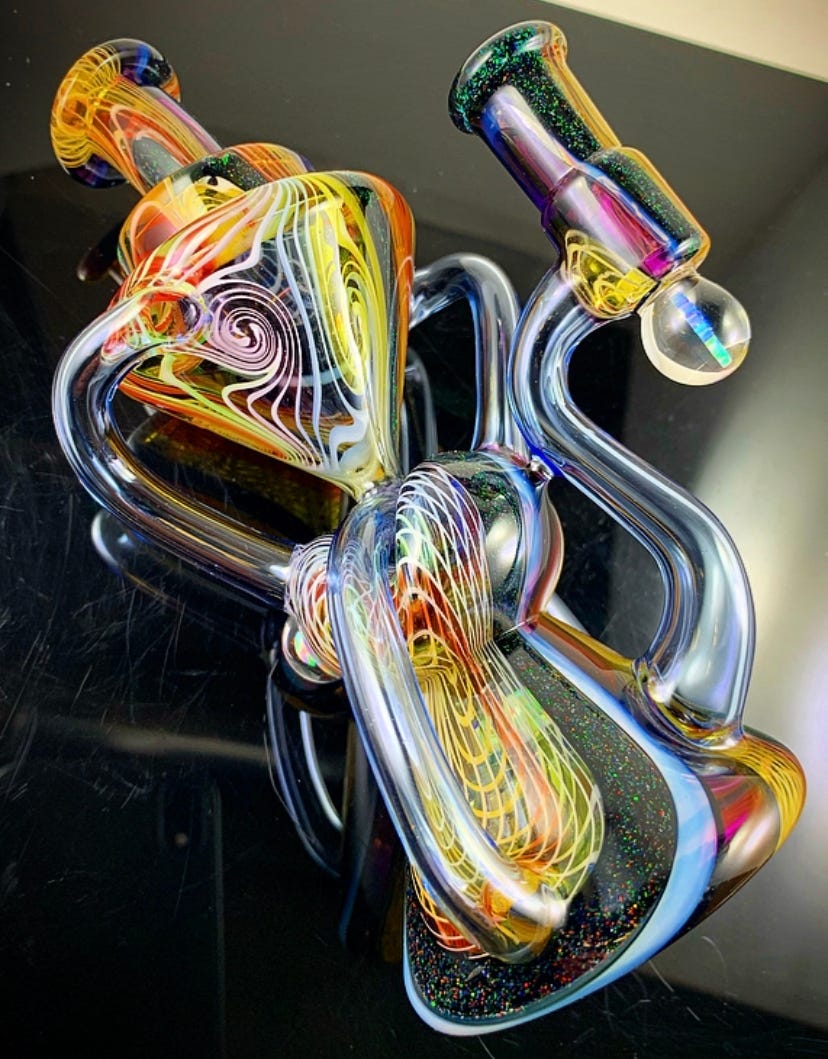 "Now, it's much easier to connect with stores and fans around the world.  And because of that, the art form has blown up. There are so many more artists out there. More perspectives, more ideas. More artists pushing the limits of glass. Bigger pieces, more detailed work. It's really exciting to see how far and how fast it's going," Mankey added, echoing Rahmil's assessment.
"I can understand that it would be hard to, you know, find someone that would able to whip you up a small little spoon because most of the people that are doing that work have focused on keeping their relationship with the stores alive and developing their social following," Rahmil continued to say back in our phone call. He was so understanding of all of my glass pipe troubles so far! I was starting to think of him as my glass therapist, rather than a source, so I decided to change the topic. There is an astronomically vibrant market for high-end glass that is far more interesting to talk about than my tiny broken spoon.
Seeing as my one-woman journalism outfit doesn't exactly have a fat expense account, I'm generally not in the market for high-end glass. I know the good stuff costs a lot—I do have bongs that cost in the low hundreds, which is a fairly standard purchase for a regular smoker. But I really don't have a clue what nicer pieces cost, though I know there's a thriving collector's market.
"I kind of have two sections in my work as well as the smaller pieces I make," Rahmil explains. "They start around two thousand bucks. Those pieces can take me a day to two days to three days to make. And then it kind of goes up from there to my large scale instruments and masks and whatnot," he says, referring to two styles of glass pipes he's mainly known for—ones that look like instruments and others that are, literally, glass masks. All of them are fully smokable.
They are also quite expensive. "Those start around $10K and go up to about $25—$30K has been the most expensive piece that I've sold. But even past me, I mean, there have been six-figure pipes," Rahmil says while my eyes widen behind the phone. "There's definitely a business to this. People can tell when a piece is special. They have value and they also hold value—they're good investments. They usually get grabbed up pretty quickly," he says.
It's hard for me to imagine spending that much on something only to then sully it with tar and smoke. Do these buyers use the pipes?
"Oh yeah," Rahmil says. "They are using all of them, for sure. I have a mix of different clients. I have made nonfunctional pieces for collectors that just want to put it on their piano or put it in their house. But most of the work, especially the large scale work I do, is functional pipes and they are most definitely used. It really is a more experiential, personal way of owning fine art," he explains.
He goes on to say that, actually, in the last five to seven years, oil (concentrates) has surpassed flower as the type of cannabis most commonly being consumed in one of his pieces. Rahmil thinks that it is more of an elevated—no pun intended—way of using cannabis that befits such a high-end apparatus. Dabbing and using concentrates makes clean-up much easier, too, seeing as there is no resin if there is no flower. "Soak it in alcohol for about an hour and it's like fresh," he says of using oil in his pipes.
The switchover from flower to oil isn't the only change Rahmil has seen in the last several years. He explains that glass has always been one of the "dirty" arts, dating back to Italy when artists in Venice were cordoned off on a small island out of sight of the average population. It sounds to me a lot like—cough, cough—a parallel industry that Rahmil earlier said frequently interacts with the glass industry.
"Glass artists were in underground shops. It was hot. It was dirty. And it was kind of looked at as a 'less-than' craft form. And now, years into the future, I think that people have fallen in love with glass. Even before pipes started getting popular. Nothing looks quite like glass, right? The colors we have, the transparency we have, the way it looks through light glass is just beautiful, even as it is," Rahmil says.
He explains that as glass artists have pushed the limits of what can be made, they are making a larger impact on the art world. "We're showing people that this can be fine art, much like how graffiti started popping up in high-end galleries," he says.
"And Art Basel!" Rahmil adds, referring to one of the world's most famous and flashy art gatherings that takes place in Miami every December. "Glass artists were shooed away from Art Basel at the beginning and started popping off their own galleries around, you know, around the time Basel was. And, finally, Art Basel was like, 'Well, if you guys want to come in here, we kind of see that what you're doing is cool and people really like it,'" he recalls of the festival's ultimately accepting but skeptical and, in my opinion, passive-aggressive attitude.
Ultimately, though, he doesn't really care. The people who really want his pieces are rich people that love weed and, to listen to Rahmil tell it, that market has been thriving for a long time and continues to do well, even during COVID. Plus, it is the pipes' usability factor, one that is so vital to the overall value and experience for collectors, that can make it less valuable to other fine art collectors.
"I've been at those art shows, like the Seattle Art Show where a bunch of people in Polos walking around talking about what they should buy or what their friends should buy and. I would—one hundred percent every time—be like, 'And by the way, you can smoke out of this!' And the reactions were hilarious. A couple of people didn't believe me. 'Why would I do that?' They'd say. A couple of people were put off by it. Of course, most people were like, "Oh, my God! You know, I didn't even know that was a pipe. And now that you're telling me that I can actually use it, that is so cool,'" he remembers people saying.
But, being adjacent to the cannabis industry, Rahmil and his contemporaries are used to being in the shadows. "The usability thing is also kind of a divide of aesthetics that we have in the industry, too. A lot of the artists, we like to make things and hide the pipe to where you could display it on your shelf but you wouldn't really know it's a pipe," he says.
Those are pieces that he says are more easily digested in the outside world, and so many of them are some of the most sought-after pieces in the glass pipe industry.
"There's still a huge amount of pipe being made that actually looks like pipes that are fucking incredible," he adds excitedly. "They're gaining the prices I was telling you about or more. And, so, we're not shying away from the pipe. The collectors aren't shy about buying an expensive pipe that looks like a pipe and not just a piece of art or an object. It's assumed to be a pipe. So, we embrace it," he says.
Oh, and about my elusive glass spoon? I found someone online, his name is James and he's in San Diego. He goes by Doja Dojo and, as he puts it, he's more into making, rather than selling, and his golden days were pre-legalization when non-licensed cannabis markets like Ganja Galaxy (major, major RIP!) ruled San Diego's cannabis social scene. Ames said he'd make me a small spoon, and, as an extra, gave me one piece of advice that I should probably write down and tuck in a safe place. "Can't let the broken ones get to your heart and don't let the awesome ones go to your head."
Roger that.
Check out Rahmil's *brand new* all-glass pour-over coffee brewer, Pure Over, which is in the middle of its first product launch. No paper necessary!
And, while we're on the subject of glass pipes
Here's a picture of me from 2018 at the Sour glass blowing facility in National City, CA. I think that's a four-footer.
Worth Reading
I'm not trying to ruin your day or anything, but Ed Yong's brutal indictment of the American response to the novel coronavirus in The Atlantic is truly essential reading. It's not easy and it's long but it's masterful.
What are chefs feeding their kids during shelter-in-place? At Romper.
After reading that and having your brain thrashed, take a load off by contemplating the legal use of psychedelics. At Double Blind: Canada legalizes psilocybin (magic mushrooms!) for some terminally ill patients. In the United States, reports Marijuana Moment, DC lawmakers will vote on decriminalizing shrooms in November.
American Heart Association Says Weed Is Bad For Your Health, Then Calls To Reschedule It at Merry Jane
LA Times Opinion: "The disproportionate legal action taken against No More Deaths and its volunteers exemplifies the deliberate cruelty of the Trump administration's border policies." Read about what's happening at the border this week.
At The Guardian, about why clean wine is a marketing scam (I very much agree).
Did you hear about Riot Ribs in Portland? In Bon Appetit.
Meet The Teenage Beauty Boys Coming For the Cosmetics Industry, also at The Guardian
Thanks for being here! If you liked this, consider paying to subscribe, buying a subscription for a friend, or sharing it with someone that you think would like Cannabitch. Packaging aesthetics, a meditation on the concept of intoxication and a look into Border Patrol seizing legal weed for free subscribers and essays about Mexican identity and cannabis use, growing outdoor weed in Alaska as well as a cannabis slushie video tutorial, cooking with cannabis tutorials, an audio interview with counterculture journalist Michelle Lhooq about the evolution of Cali Sober, product reviews, and, if the mood strikes, a few pictures of my handsome dachshund, Romeo, to come. Until next week!
A note from the editor
WeedWeek is the essential news source for people who make money in the cannabis industry. Our coverage focuses on the business, political, regulatory and legal news professionals need.
We publish throughout the week and send newsletters on Wednesday and Saturday.
Starting soon, most of our premium content will only be available to paid subscribers. For now, it's still free. Over the next few weeks, we'll do our best to prove to you that our reporting and work will be well worth your subscription. 
Since 2015, WeedWeek has been the best way to keep up with the cannabis world. WeedWeek's audience includes many of the most influential figures in cannabis because we are editorially independent: Advertisers have no influence on our editorial content.
Follow us on Google News, and be the first to see new WeedWeek stories.
Our success is depends on the value you get from our work, and we want to hear your input. Email alex@weedweek.net with the issues you're facing, your thoughts on our coverage or whatever else is on your mind. To advertise contact hello@weedweek.net.