From our Partners
Cannabitch: Veterans find PTSD relief in cannabis
By Jackie Bryant
Aug 4, 2020
Share:

Cannabitch is a weekly newsletter published and written by journalist Jackie Bryant. Please click through to read more or become a paying subscriber.
I'll be the first to admit that I have conflicted feelings about the military. I come from a line of men who served in the Marine Corps, though the bug seems to have skipped my dad. He's the only guy in our recent lineage who not only didn't serve, he actively opposed the institution while still maintaining respect for the people who serve in it. It's an attitude he passed on to me, though, admittedly, I am violently squeamish when it comes to authority and imposed beliefs of any kind, like patriotism or nationalism.
That said, I count several family members and friends as combat veterans. What's more, apart from my personal connections to the military, is that I believe that anyone subjected to the horrors of war regardless of why they ended up there deserves to be taken care of for any illnesses or injuries incurred during their course of action.
Unfortunately, the United States has had a less-than-stellar record of tending to its returning soldiers—many Department of Veterans Affairs (VA) hospitals and programs remain chronically overloaded and underfunded. There is a lack of comprehensive care for the unique cocktail of combat-related ailments that returning servicemembers so often return home with. The result is that many veterans fall through the cracks—according to a report released by the VA, an average of 16.8 veterans died by suicide each day in 2017. The report also found that among veterans with recent VHA use who died by suicide in 2017, 58.7% had a diagnosed mental health or substance use disorder in 2016 or 2017.
I live in San Diego, which is undeniably a military town, owing to at least seven large Navy, Marine Corps, and Coast guard bases within the city's immediate vicinity, not to mention several VA hospitals. So, when I found myself speaking on a panel this past March with Bryan Buckley, who is the founder and CEO of Helmand Valley Growers Company (HVGC) and a former Marine Raider who served in Afghanistan, I was instantly interested in learning more about his work with cannabis and combat-related illnesses and injuries.
"Our unit had a pretty rough deployment and I think everyone was drinking more than they needed to be drinking, myself included," Buckley tells me during a phone interview last month. "But Andy was kind of depressed and stuff. So, I asked him, 'What's going on?' And he replied, 'I traded in Jack for a joint!'"
The Andy in this tale is HVCG's co-founder and cultivator, Andy Miears. Miears explained to Buckley that he had switched from booze to weed in an effort to treat ailments he acquired from when they were deployed to Afghanistan as Marines. He was pleasantly surprised by what he found. With weed, he didn't black out. He didn't drink and drive. He woke up and felt not just good, but great, Buckley recalled Miears telling him. In the same conversation, Miears divulged that he had also started growing cannabis.
"It was a full transition from a warrior to a gardener," Buckley says, recalling the conversation and their time spent as Special Ops forces. They and another friend, Matt Curran, did more research. Eventually, they decided that cannabis held much more promise than the opiates most of their fellow ex-servicepeople were being prescribed at a fast clip and decided to start a company.
Before discovering cannabis, Buckley already had a heart and mind for helping fellow veterans. After leaving the military, he worked for a tech firm—it was during that time he started noticing the grim correlation between veterans, suicide, and the opioid epidemic. Being 100% disabled, he also had to dig into the various limitations the Department of Veterans Affairs (VA) has in place for different types of care. Though the VA formally says veterans will not lose benefits for using cannabis, because cannabis remains federally illegal as a Schedule I drug the VA is unable to provide cannabis nor sign off on cannabis for medical care directly.
"We didn't want to be just an advocacy group," Buckley explains. "We wanted to do something more."
Identifying a need for more resources in the veteran community, Buckley and his crew formed the Oceanside, CA-based Battle Brothers Foundation in 2017. It operates with a three-pronged approach of mentorship, job placement and professional development, and what it deems "progressive" medical treatments. Spoiler alert—since you're reading a publication called Cannabitch, I feel like this is okay to divulge—the progressive treatments now include weed.
From the backbone of that Foundation eventually came Helmand Valley Growers Company (HVGC), a company that makes single-strain vape cartridges while also providing job opportunities and actively funding research. What is different about HVGC versus other cannabis companies is that profits are invested in aiding veterans seeking treatment for PTSD, depression, anxiety, opioid dependency, alcoholism, acute pain, and other ailments. There is also promise in treating acute traumatic brain injuries, like the kind that results from being in close proximity to IED explosions.
"We didn't want to be just an advocacy group," Buckley explains. "We wanted to do something more." That may be the understatement of the century—they have been able to meet with various legislators over the years, including several members of congress, who told them that if they can somehow get data regarding how cannabis helps PTSD treatment and get it verified by American doctors that it would be something "very interesting" and "worth something up on Capitol Hill," Buckley recalls.
Buckley describes a fateful night in 2017 when he was at a UCLA cannabis symposium and ran into a friend who runs NiaMedic USA, part of the Israeli research company that has been conducting medical cannabis research for over 17 years. "He served as an engineer in the Israeli Defense Forces. And he understands, you know, post-traumatic stress and everything that happens with people who serve in the military," Buckley says.
Buckley explains that he had been thinking about finding a way to do "better" medical cannabis research. He wanted to see if it could be tailored to studying post-traumatic stress. His friend loved the concept, so they started bouncing around ideas. They tried to get HVGC funded by various channels and kept running into roadblocks, including a lost investor. Then, one day in June 2019, Platinum Vapes contacted HVGC to say they were launching a sub-brand called React, the proceeds from which would be donated to various groups, including veterans. They wanted to get HVGC off the ground. Were they interested?
The rest is history, as is so often said. At present, HVGC's vape cartridges can be found in 20 stores across California. The proceeds of that flow back into the company's career development and research initiatives, in keeping with the original Battle Brothers mission.
What's more, the NiaMedic cannabis research they have been doing on treating PTSD with cannabis is about to go up in front of an institutional review board (IRB), which is the process by which all clinical trials in the United States are approved. According to the National Institute of Health (NIH), IRBs "ensure that the risks are reduced and are outweighed by potential benefits. IRBs are committees that are responsible for reviewing research in order to protect the rights and safety of people who take part in research, both before the research starts and as it proceeds." If their proposal passes, HGVC and NiaMedic will be able to conduct research on humans.
After a clinical trial, their findings will be published in a peer-reviewed study and—as those unnamed congressmen said to Buckley years ago—those studies could enact legislation allowing the government to provide cannabis to veterans for combat-related ailments.
It is hard to overstate how significant this is—Buckley says they are the only private cannabis company to be invited to present to an IRB and one of three entities in the North American cannabis space to do so, period. If these efforts end up affecting policy and legislation, which is likely to happen, it could mean sweeping changes to VA treatment as well as another notch in the belt for federal cannabis legalization.
"I wanted to see if [cannabis] was as beneficial for me as it was the people that I knew. And of course, it was," she says. "It was basically a miracle for me and I really want to be a part of the movement."
Tianna Waite, the Oregon-based founder of Cannalytics Research, also came into both using cannabis and eventually working in the industry via combat-related ailments. She served in the Army National Guard for almost 12 years and saw combat in Afghanistan—she joined when she turned 18 and left two years ago. Top brass said she wasn't allowed to keep the service dog she had trained in a research program focused on whether or not service dogs were better for combat veterans than companion dogs. They told her she could keep the dog or continue serving but not both, so she left.
"I was really struggling with my service anyway. My last mission was actually being a deputy marshal for Trump's inauguration," she says while I awkwardly laughed and said, "Wow!" because I'm a very professional reporter.
"By talking to all my combat friends who had also gotten out of the military, cannabis came into the picture. I wanted to learn about it. I wanted to see if it was as beneficial for me as it was the people that I knew. And of course, it was," she says. "It was basically a miracle for me and I really wanted to be a part of the movement."
Waite learned the ropes by working in market research. Eventually, the company she worked for was acquired, and she has since stepped out on her own to found Cannalytics, which provides consulting, market and consumer research, testing, and more for cannabis businesses.
Waite was upfront about her struggles with PTSD. "I think that every veteran that comes home, it's pretty hard not to have some form of PTS, which is post-traumatic stress. I mean, you know, you're living in a completely different environment. You're always on edge when you're over there. You're seeing things are not normal to be seeing," she explains.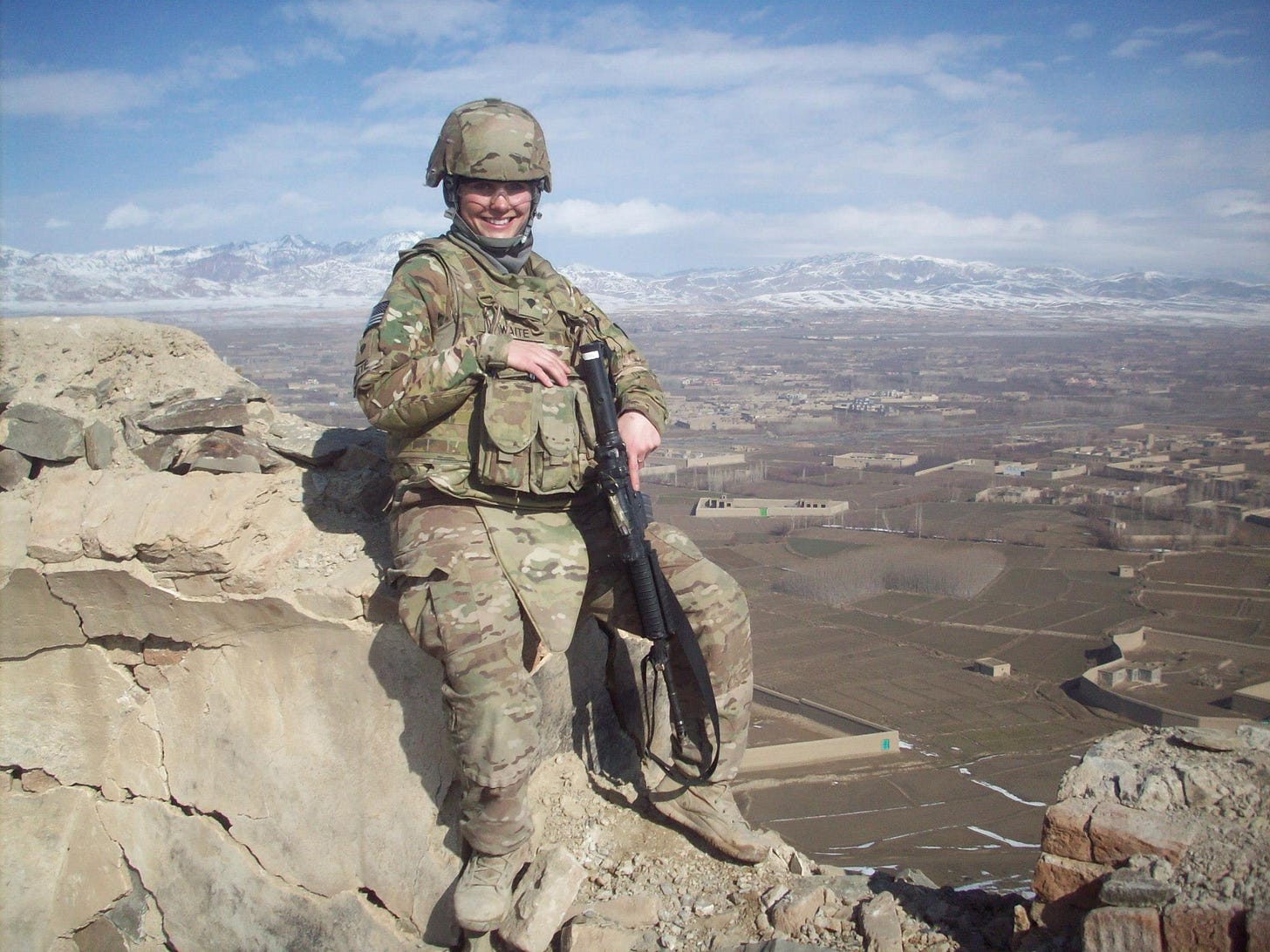 "I came home with PTSD. I didn't realize really what that entailed. I was going through it and it felt normal to me because that's it's just, like, what my natural reactions were to things. But it wasn't normal for the people around me. People start seeing, you know, me not sleeping or maybe I'm really on edge and not wanting to be as social as I used to. That's really kind of how it looks for me—I just wasn't myself and I was really on edge and stressed out all the time," she continues.
Waite says that cannabis helped lower her anxiety and allowed her to sleep, which she says is vital for having good mental health. She also says it helps with her depression and allows her to be less on edge and reactive.
"Cannabis is just one of those things that I feel like if you are properly dosing you will get whatever you need from it. That's just kind of the way the plant rolls," she says.
Despite cannabis's obvious benefit to her life and that of many of her fellow combat veterans, Waite knows that the military at large still doesn't understand it. And, though there are distinct cultural and institutional separating those still on active duty from those who have formerly served, the military and the VA are still intricately linked, Waite says.
"The military demonizes this plant. I mean, they would we have it next to meth and heroin [editor's note: and so does the federal government—that's why it's Schedule I]. Like, that's the level of how much they hate it, how they look down on those who use cannabis. So with that mentality, when you first get out of the military, you feel like, "Maybe I shouldn't be talking about this.'" She also notes that she has read of veterans losing benefits due to cannabis use, though she doesn't know of anyone personally that it has happened to.
Buckley says he and HVGC haven't run into too many institutional roadblocks. He also says that, overall, he has found the VA to be quietly tolerant of cannabis use, especially when legally prescribed in states where that is an option. He notes that some in the military community have made comments here and there, especially in the divide between active service and retired ground service. But mostly, he says, people are really coming around to the healing potential of cannabis.
"I mean, we were just in a magazine called Homeland, which is distributed on military bases. They would never allow anything with medical cannabis, whether advertising or editorial. But this happened in June! It was the first time," Buckley says.
The disparate feelings and experiences various veterans are having while navigating their post-combat health with cannabis echo other contradictions that are playing out on the national stage. For example, just the other day, Marijuana Moment reported that Congress approved a measure that allows active service members to use CBD.
"I feel like I'm being thrown away by a country I went and served for," Sean Worsley wrote in a letter to Alabama Appleseed.
But just a few weeks ago in Alabama, the Alabama Political Reporter broke the story that a man named Sean Worsley was arrested and eventually sentenced to 60 months and prison in the state. Worsley served in the Army in Iraq, where he became disabled due to PTSD and a traumatic brain injury. Due to his disabilities, he became an Arizona medical marijuana cardholder and patient. He was traveling through Alabama by car with his wife when, while playing air guitar in his car at a gas station, an officer approached them, started asking questions, and eventually requested to search Worsley's vehicle, to which Worsley consented. Obviously, the offer found weed. Worsley explained that he was a patient as well as a disabled veteran. The officer simply replied that there is no medical marijuana in the state and slapped cuffs on him. He was sentenced to 60 months this past April.
"We know that marijuana is not a gateway drug but it is a gateway offense. Sean's story is emblematic of how one simple possession charge, especially for a Black man in America, can easily get you caught up in a system that almost guarantees you will continue to re-offend," says Sarah Gersten, executive director and general counsel of Last Prisoner Project.
"Incarcerating our nation's veterans for years-long sentences is not the solution. Sean's case serves as a stark reminder that without mental health resources, long-term care, and access to safe and effective medicine, those who have served this country risk bearing the brunt of an unjust system where even low-level offenders are destined to fail."
"I feel like I'm being thrown away by a country I went and served for," Worsley wrote in a letter to Alabama Appleseed. "I feel like I lost parts of me in Iraq, parts of my spirit and soul that I can't ever get back," he also wrote. Worsley has two kids, ages 11 and 14, as well as his wife, Eboni, who was arrested alongside him, though the charges were later dropped. Alabama Appleseed reported that, in his letter to the organization, Worsley feels humiliated and crushed that he is "letting them down" due to an arrest over something he did to keep himself healthy.
Worsley's case is extreme, cruel, and inhumane. But honestly? So is denying appropriate medical care to those who need it. While Worsley's case is unfortunately far from resolved, at least there are other advances being made, thanks to companies like HVGC and canna-business pioneers like Waite, in the quest to treat veterans' combat-related ailments with cannabis. Hopefully, at the very least, it means that the days of being jailed for cannabis or denied access to legitimate medical treatment are numbered.
In the meantime, though, please click here to learn more about Worsley's story and for more resources to take direct action.
Digital Set & Setting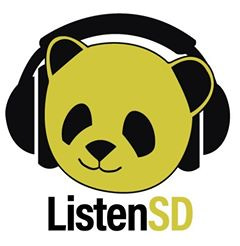 Set and setting—where, with whom, in what mind frame and in what environment are you imbibing?—is crucial to a good sesh. Often, music is a vital part of this equation. I asked Rachel Frank, the editor-in-chief of ListenSD, to make us a Cannabitch playlist fit for the most indulgent of smoke circles. Moon Boots, La Femme, Khruangbin, Leon Bridges, Tirzah, and more make up this week's selections.
Recently published and an impromptu product review
For CannabisNow I wrote a primer on CBG, my absolute 100% current favorite cannabinoid. Adorably, the prompt at the end of the piece asks readers, "Do you have a preferred cannabinoid?" and I can finally say yes, I do! I just bought a whole 10-pack of Lady Jays CBG pre-rolled joints. They're made from Oregon-grown hemp (Marshall Farming) and, admittedly, I first came into them through a free sample pack. Then, I bought another pack. Then, last weekend, I said "fuck it" and sprung for a 10-pack. They won't make anyone high, but they do make me feel relaxed without making me sleepy. Plus, they're way cooler than cigarettes. I imagine an exchange with a stranger going something like this: "What are you smoking?" they'll ask. "CBG, ever heard of it?" I'll hiss before taking a puff and blowing into the wind. Anyway, this blurb was supposed to be about my CBG article, not how much I'm obsessed with CBG joints, but here we are. They are legal to ship anywhere in the US. I am not getting a kickback for this, I just love them. Also, click on the above article. You can learn much more about what CBG actually does!
I wrote about value brands and their current popularity because everyone's broke but still needs weed for Green Market Report.
About a month ago I penned an opinion piece for the San Diego Union-Tribune about why I think restaurants should be shut for anything other than take-out. It doesn't please me to say that I was right, however much I usually adore being right.
I wrote about local-to-San Diego booze (that you can buy nationally!) in my monthly cocktail column for Ranch & Coast.